Gallery Of Recent Projects - click a thumbnail image to view the full size image gallery
Tanner House - Tairua
Design Brief for Tanner House - Tairua
When I met Alan and Lee Tanner I could see that Alan had a lifetime of building experience under his belt as a saw miller and timber expert. His encyclopaedic knowledge of building with timber is staggering. He openly admitted though, that while he had this experience behind him, he was lost when it came to the design process. He had seen many building fads and fails over the decades, and knew more than most what could go wrong. Clearly, handing over this design project to someone else was a brave move.
He said he was taking a leap of faith, and placing a lot of trust in my abilities.
He also said that he would make it clear to all the tradies on the job that if they didn't listen to my directions they would be off the job.
The clear directive was this project was about creating the dream family home, after a lifetime's effort.
The last and final point he made was this: " … and we want to be friends with you at the end of this."
I respect that honesty – not to mention trust in my abilities - and so made sure I came up with the goods!
CHALLENGE ACCEPTED!
The brief:
To interpret a dream lifestyle and in conjunction with the architect, create a beautiful home designed for –
Being able to stay for as long as possible into (possibly infirm) older age.
Having extended family come to stay, while allowing for privacy for both.
Making the most of the 360 degree views.
An open space for daily casual living as well as a separate space for more formal occasions – both centred around the kitchen.
Storage for food suited to rural living, including a scullery and a cool room.
Using natural resources for water and interior heating.
Designing a home that is well lit at all times, including automatic sensor lighting in all outdoor areas and garaging. Interior and exterior feature lighting, with complete electrical plan.
Easy to access storage and firewood, easy cleaning, and user-friendly confined spaces such as showers and WCs for two – one helping the other if needed.
To design a home with a traditional American flavour using a selection of solid timbers, oversized doors, intricate detailing and ceiling heights.
To design in detail every room, including the kitchen, scullery, bathrooms, coat room, sewing room, study, laundry, woodstore, workshops, garaging and so on.
Select materials, both exterior and interior.
To arrange the manufacture and delivery of custom made interior items, such as kitchen cabinetry etc.
To organise delivery of all items to the site in a timely fashion. This included the schist cladding, tiles, custom made cabinetry, fabrics, light fittings, granite hearth etc.
To work closely with the truss designer and builders, plumbers, window manufacturers, tilers, electricians, painters, door makers, floor sanders, heating experts, stone masons and cabinetmakers to ensure the end result was an exact manifestation of my design.
Find creative solutions to design problems as they arose during the building stage.
Alan & Lee Tanner -Testimonial
We were planning our new home which had been on our dream list for 25 years. The basic outline (room sizes and layout) had been clear in our minds.
Our Daughter said she had met an interior designer who she liked, and thought would be helpful in converting our dreams into a real home.
During our first meeting we "clicked" and knew she would be the perfect person to look after our design needs. We took Kerry to the building site – a bare patch on the top of a hill on our farm – and showed her the architect's plans.
After listening to both of us share our vision for our dream future lifestyle, Kerry gently suggested we were unlikely to get this from this exact layout.
She made several suggestions, including simplifying the roofline, slightly increasing the kitchen area, and putting more thought into showcasing the interior detailing we had been imagining using – in particular the swamp kauri, rimu, cherry and oak timber we had been collecting for many years with this dream home in mind.
She also listened to the list of features we had enjoyed in our home during our time living in America – particularly the over-sized doors, intricate timber detailing and generous ceiling heights. She suggested the architectural design more emphatically showcase these design aspects as well. From that moment on we knew we were in capable hands - our dream lifestyle began to become a design reality.
She worked in conjunction with the architect who translated these ideas into a revised set of plans, while she designed all the interior spaces, including the kitchens, bathrooms, store rooms, living spaces and so on.
She selected all the materials, both exterior cladding and windows as well as the interior detailing - from the feature ceilings to the tile cuts and everything in between.
Kerry organised the various subtrades and suppliers for the interior fit-out including the cabinetmaking, plumbing supplies, tiling and lightfittings.
She designed the lighting and electrical plan which was another important aspect of this design as night vision and safety was an important part of our design brief.
Essentially she took care of the whole design project, even when we were overseas travelling.
Kerry became our "go to" for everything and took us from feeling like "the blind leading the blind" to the completion of a beautiful home which has exceeded our wildest dreams.
Whenever we came up against a design challenge or problem on site, we conferred with Kerry who always had a practical solution which "made sense". During the construction phase as building related issues arose Kerry always came up with a common sense and workable solution. Equally the same when there were any issues with any interior finishing and fittings Kerry always managed to introduce a solution that was both practical and cost effective.
We would highly recommend Kerry to any homeowner wishing to build their dream home without breaking the bank. Her knowledge and flair for design and her understanding of the whole building process is awesome. She has always been a pleasure to work with and will remain a very special friend to us both.
Alan & Lee Tanner
Tairua NZ
22/2/18
Bathroom Renovation
Mouseover and click the play button for short video of the journey from "before" to "after".
Richards House
Design Brief for Richards House - Karaka
Leanne Richards had seen some of my work in an architectural magazine, and so made contact with me to discuss their upcoming project – a new home to be built in rural Karaka.
The brief was as follows:
To work within a budget. I agreed to do this, as well as to keep her informed of costs on a monthly basis.
To design the interior spaces, working from the council approved plans, prior to and during the building stages.
To create the interior look, working with their existing art collection.
Design the bathrooms.
Create the lighting plan.
Create the exterior colour scheme.
Design the interior look by choosing all the finishes necessary - granite benches, tiles, carpet, timber flooring, paint and wall paper, and everything else that went on top of it – including new furniture, feature light fittings and accessories.
To be an independent set of eyes, keeping tabs on progress as the trades people do their various stages of work throughout the process of building and finishing a new home.
Leanne Richards -Testimonial
My husband & I recently moved to Auckland and were in the process of building our dream home. I found Kerry's details on line and arranged to meet over coffee to discuss options and to see if our personalities could work together. I walked away from our meeting knowing that I had found the right person. Kerry said in our first meeting – you sound like you would like your friends to walk in and say WOW but not sure why – Kerry hit the nail on the head and achieved this 100%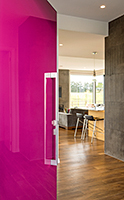 Kerry's communication, timeliness, attention to detail, vision and impeccable taste made the pleasure of completing our home a wonderful experience. Kerry covered all aspects from external colours & materials to inside flooring, colours, tiles, furniture, soft furnishings and lightning that all culminated together into a home that we are terribly proud of and we could not have achieved the finished product without Kerry's knowledge and support.
Our bright pink front door was outside the box for us but we are so pleased with the end result, it makes me smile each and every day!
Leanne Richards
Lawrence House One
Design Brief for Lawrence House One:
To create a clever design solution to partly renovating two large bathrooms without having to remove all the expensive tiling and waterproofing to do it, and yet introduce new materials with the older materials that are no longer available.
To attractively dress the rooms for open homes and marketing by real estate agents.
Lawrence House Two
Design Brief for Lawrence House Two:
To design a new kitchen to fit the existing space.
To design a new bathroom while at the same time working with the existing plumbing which was literally set in concrete.
To design new window treatments for privacy and light as well as warmth.
To create a new furniture layout and select new furniture to suit paintings and rugs already owned by the client.
To select new carpet for the bedrooms and a neutral colourscheme throughout.
To request quotes from the various trades involved, and to co-ordinate their work and timing.
Ngatai project
Design Brief for the Ngatai project.
The proposed project was to be an extensive renovation plus addition to an existing home. The building plans were part-way through the final stages, and about to be presented to council for permit when I was introduced to the project.
Gale and Mike asked me to create a family home suitable for many roles. They are a couple who love to entertain, who live with two beloved cats, and many frequently visiting grandchildren.
The home faces a wonderful, north-facing view of the harbour, and yet many of the spaces are completely lacking in natural light. The design therefore had to make the most of the site, and yet offer practical living that allowed for frequent entertaining.
I was asked to do the following:
To design a kitchen that allowed for several people to work in at one time as well as provide a central hub for parties and entertaining.
To design bathrooms that provided a particular range of relaxation activities from relaxing in the bubble bath to a shower designed for elderly parents with limited mobility.
To design furniture that accommodated the needs of both small and large groups in comfort. This included the couches, the dining table, the buffet cabinet and the coffee tables - all were custom designed to meet these various needs.
To design the window treatments for the light and privacy needs of each room.
To design a large walk-in wardrobe for everyday practical use
.
To design a lighting plan that offered a practical range of lighting options from ambient mood lighting to task lighting, and every other combination in between.
To select and place all the accessories in the home - from the beautiful Italian mirror to the dinnerware - even the flowers in the vases.
To design an outdoor BBQ area, in collaboration with the landscape designer, complete with furniture.
Wright House
Design Brief:
To design a tropical-themed ultra-modern interior that will eventually be surrounded by a tropical garden on the ground floor, and overlook the surrounding garden to the view beyond from the upper level, and yet distract the eye from the less appealing homes in the immediate surroundings.
With this in mind, keeping the focus on the indoor outdoor connection from all rooms. To create a sense of light, spaciousness and space while using black and red in much of the design.
To work closely with the architect who had created a very successful house plan for this small, difficult site.
To create a dramatic first impression from the front door on. To keep the staircase as weightless-looking as possible, leading the eye up towards a continuation of the first impression upon entering the front door.
To keep the home bold, uncluttered and simple and yet comfortable to live in.
To design a lighting and electrical plan that offers ease of use, and plenty of practical options - from automatic blinds that disappear into the ceiling to mood lighting and beyond.
To design a fireplace/TV/display shelving wall that conceals the complex cables required for TV, high-quality sound and the ducting required for a shared-heat system from the fire to the rest of the home.
To design modern bathrooms with open showers, bold uncluttered lines and custom made space-saving in-wall cabinets for personal items to be stored out of sight.
To display a collection of treasured personal possessions, from paintings to glass objects d'art in an attractive way.
To work with the builders, cabinet makers and various trades to ensure the end results were exactly right.