Online Interiors Testimonials
Leanne Richards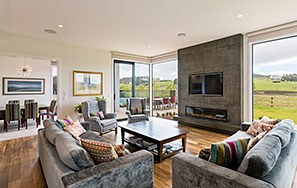 My husband & I recently moved to Auckland and were in the process of building our dream home. I found Kerry's details on line and arranged to meet over coffee to discuss options and to see if our personalities could work together. I walked away from our meeting knowing that I had found the right person. Kerry said in our first meeting – you sound like you would like your friends to walk in and say WOW but not sure why – Kerry hit the nail on the head and achieved this 100%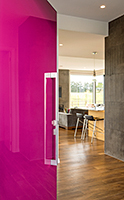 Kerry's communication, timeliness, attention to detail, vision and impeccable taste made the pleasure of completing our home a wonderful experience. Kerry covered all aspects from external colours & materials to inside flooring, colours, tiles, furniture, soft furnishings and lightning that all culminated together into a home that we are terribly proud of and we could not have achieved the finished product without Kerry's knowledge and support.
Our bright pink front door was outside the box for us but we are so pleased with the end result, it makes me smile each and every day!
Leanne Richards
Victoria Lawrence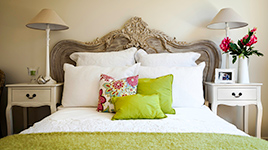 Over the last fourteen years I have engaged Kerry McComish on a variety of design functions ranging from the interiors of new builds to a complete renovation.
On some of these projects Kerry liaised with architects and other associated professionals. My briefs included kitchens, bathrooms, furniture and soft furnishings that all worked together throughout the various homes. Kerry arranged her trades people for one project which removed problems and stress trying to find the right contractors.
Kerry has a wealth of knowledge when it comes to detail and a vision that can bring things together all within budget.
Finally, if you just want to dress your home up for sale Kerry can also handle that!
Victoria Lawrence.
February 2014
Lani and Steve Charnley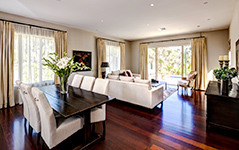 "Kerry helped us pick the right colours and fabrics to make our house feel like a home. People often comment on how fabulous the house looks and say it has such a warm feeling. If I'd picked the original colours we had in mind everything would've look pink. Kerry stopped us from making that fatal mistake and wasting time and money. We wanted to create a home that people could walk into, throw their shoes off and get settled on the couch - and most of our guests do. This is the first house we've ever had assistance with in home decorating and I wish we had used an Interior decorator long before. Kerry was easy to work with, anticipated our wants and needs and delivered the results. Thanks Kerry."
Lani and Steve Charnley
Hilary Martin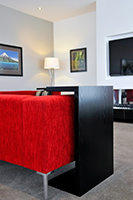 "Cut out any further looking - this lady delivers with a maximum of creative talent, a minimum of disruption and a huge flair for individuality! With keen observation of what is there already, ie the framework, Kerry successfully blends what is hoped for with what is practicable. This requires disciplined listening to clients' wants and needs teamed with a sensitive diplomacy, followed up with an ability to "pull the magic rabbit out of the hat" to achieve the end product. This means you won't end up with a hackneyed Something that just happens to be merely the changing fashion of the moment; you will enjoy a design that reflects the best of You, captured with style and a clever marriage of colour, texture and, if you're up for it, creative boldness. Boring and run-of-the-mill she "ain't"! .... and if you want the whole thing project-managed, leave it to Kerry - there's a skill in handling a tricky flow of subcontractors and tight timetables, and she has it. How do I know all this? I've seen it and I've experienced it; thanks, Kerry."
Hilary Martin
Margaret Flanagan
I first met Kerry on the advice of our architect when we were doing our first alteration on our 100 year-old villa. It was with some trepidation as I thought that our wishes might be pushed aside in the name of "Fashion". I could not have been more wrong! At no time did Kerry make me feel inadequate and totally incapable of making a "good" decision. She is able to incorporate existing furniture and fittings with her new colour/fabric ideas. The truly great part of the "Kerry" experience is that she brings all the samples to the house and tries them with the setting in which they are to be used. She is also aware of financial restraints and is able to walk a fine line of needs and desires of the customer (me!). Since that first "Kerry" experience in 1997, we have got Kerry to help us out on three other occasions, each with a fine result the has our visitors impressed. As Kerry says, "you want to get it right the first time!" and she does.
Margaret Flanagan
A very satisfied client.
Jan Gemmell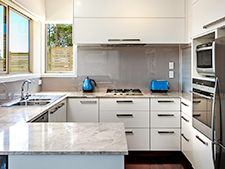 Over the years I have known Kerry, I have sought her professional services on at least 3 of my projects. The first one was designing a colour pallet for a "Day Room" that I had built onto my home in Ellerslie. The second service was to design an up-to-the-date kitchen which involved several very difficult requirements that I had asked for. Kerry worked extremely hard to fill in the requests that we had planned on, to which the kitchen became the engine room of my home - one in which many of my friends made wonderful comments to me. The third request was to reinvent a retail shop in Ellerslie, to which Kerry once again worked tirelessly. In all cases a great success to the fact that many of my customers pay homage to the way in which colour, cabinets, fittings and window design have been created. Kerry is a Designer who takes into consideration what you are trying to achieve without overriding your thoughts and ideas. She listens intently, takes notes and then proceeds to find and seek what you are trying to achieve. I would thoroughly recommend her to anyone who may be looking for just the right Interior Designer.
Jan Gemmell
Gale Ngatai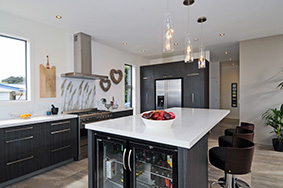 "Thank goodness for gut instincts."
We found our property for sale and I had my brother a builder look at it with his tape measure in the hope we could extend it to my vision. "Yep" it can be done he said, so we bought it.
While plans were being drawn up and waiting on the builder to be available I started to surf the internet looking for an Interior Designer. I looked at lots of sites on the internet but for some reason kept going back to Online Interiors. I called Kerry and from that moment I knew my instincts were correct.
Kerry has been amazing. She visited our existing home, got a feel for what we liked and disliked and listened to us, then the project of the total rebuild of our house began.
I am so glad I got her involved from the beginning, with the Architect, Builder, and all the subtrades after that. Not only did she guide me with products, lighting, colours and furnishings, she was there dealing with all the contractors making sure the big picture came together according to her design.
We now live in our dream home and if I was to go through this stressful, daunting, to many choices process again there is definitely one person I would be going straight to, and that is this amazing woman Kerry McComish.
Gale Ngatai.
Annette
"Kerry has a knack for knowing exactly what I want - even when I don't know it myself!"
Annette.
David Sutherland
"I have engaged the services of Kerry McComish on numerous occasions over the past 10 years on projects both residential and commercial. Kerry has consistently proven to be a very creative person with a high degree of flexibility and professionalism. I have always been delighted with the interiors she had created."
David Sutherland.
Annette Lucas
"I have used Kerry's services for over 15 years. What I really like about her is she is easy to talk to, she listens well, and the suggestions she makes are always a reflection of my own taste. She has a well-trained eye and yet our planning sessions are collaborative and she always provides several options. I have recommended her to several friends and they have always been happy with their experiences."
Annette Lucas.